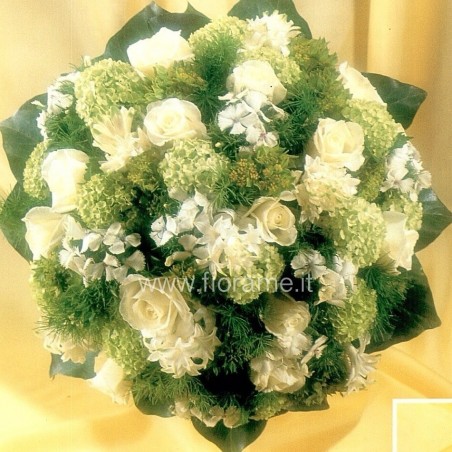  
ROUND ROSE VIBURNUM from € 35
In the biedermeier style, bouquet typical of the '70s.
Biedermeier style refers to the artistic decoration in vogue in the first half of the nineteenth century. It is also referred to as romantic.
In the floral art are found bouquets like this one, very precious and rich materials, all of which are juxtaposed to one another, which sometimes draw decorative motifs (circles, lines, spirals).
Data sheet
Deliverable within

1 day from the order

Delivery areas

Deliverable on Vicenza and its sorroundings municipalities

Photos

Sample photo; items not available will be replaced with other similar ones in colors.

Elements

Rosa, Viburnum opulus, Bouvardia longiflora, Dianthus barbatus carnation of poet, Bupleurum rotundifolium, Asparagus myriocladus, ming, Hedera ivy.

Size cm.

In the picture diameter 20-25 € 58

Maintenance

As with all cut flowers, place the can in a pot with water up to the point of ligation - The complete instructions are at the bottom of the page at the link: Maintenance and zen flowers.